UPDATE
First place!! Thank you Ingressive4Good
---
UPDATE
Case study on selected projects – here
---
In my quest to be a better UI designer, I decided to participate in the Ingressive4Good 30 Days of Design. I pray I stay consistent because this is the motivation I need to learn and improve.
Here we go 🙂
Day 1
Task: Landing page for any plants shop (Consider your local environment for inspiration)
Image Credit: Envato Elements
Day 2
Task: Website concept for a modeling and talent agency. (Use a popular model in your country, give credit for any asset use that is not yours)
Image credit: Lharley Lartey (IG)
Day 3
Task: Website concept for a community photographer specialized in humanity services (Use a well-known photographer for inspiration).
RIP Bob Pixel
Image credit: Bob Pixel
Going through what I have created in 3 days, I feel so grateful to Ingressive and Geneza for the opportunity to learn UI design.
Day 4
Task: Play around with the idea of an asymmetric grid (Create an awesome design with it)
Image credit: Pexels
Day 5
Task: Develop an Idea for a mobile app where you can find and book a parking spot near you or around a specific address.
With this, I added a social page on the app – where users can share traffic updates.
Day 6
Task: Illustrate a house using shapes. Be creative and think outside the box
Day 7
Task: Discover any brand with a bad website design, give it a nice look (Just a simple and creative landing page)
I worked on Kingdom books and stationery website.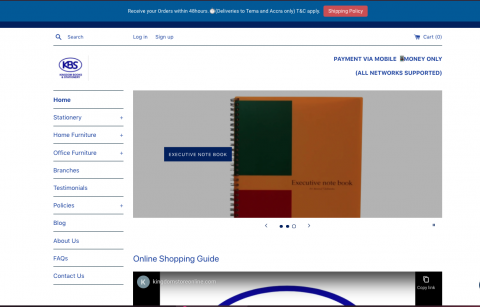 Day 8
Task: Play around with cards layout and grid
Day 9
Resource: I found a useful video on presenting your UI shots like the ones on dribbble. One valuable piece of information in the video was: picking the primary color for the presentation background and changing the HSL value. Tried this on Day 9 and I like the outcome.
Task: Design a fun 404 page
I decided to create a 404 page for Day 1 challenge. I do not know if it's fun but here we go 🙂
PAUSE
This challenge has helped me note areas I need to improve. Things like picking a color scheme, visual hierarchy, spacing, font sizing, and font matching are a bit challenging.
Day 10
Todo: Design a landing page for the Nigerian basketball team.
Credits:
Icons: Flaticon
Images: Envato Elements, Dtigressng (IG), Ambitious_vick (IG), Nbbfline.com, Pexels
Day 11
Todo: Play with slide animation design
I made changes to the layout and used a colored basketball instead.
Credits:
Icon – Flaticon (Prettycons, Freepik)
Images – Instagram (_thenigerianqueen, NigeriaBasketball, DTigressNG)
Sound – Gelatin Nature by Ooyy
Laptop presentation made with Canva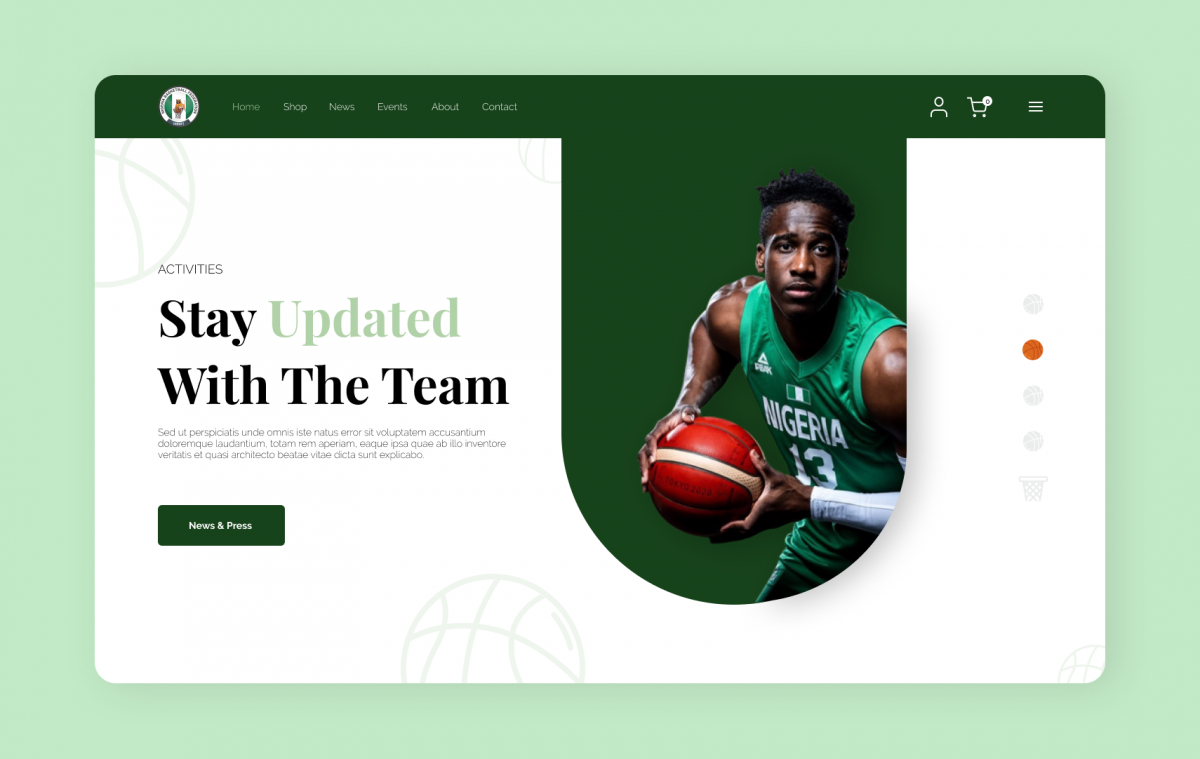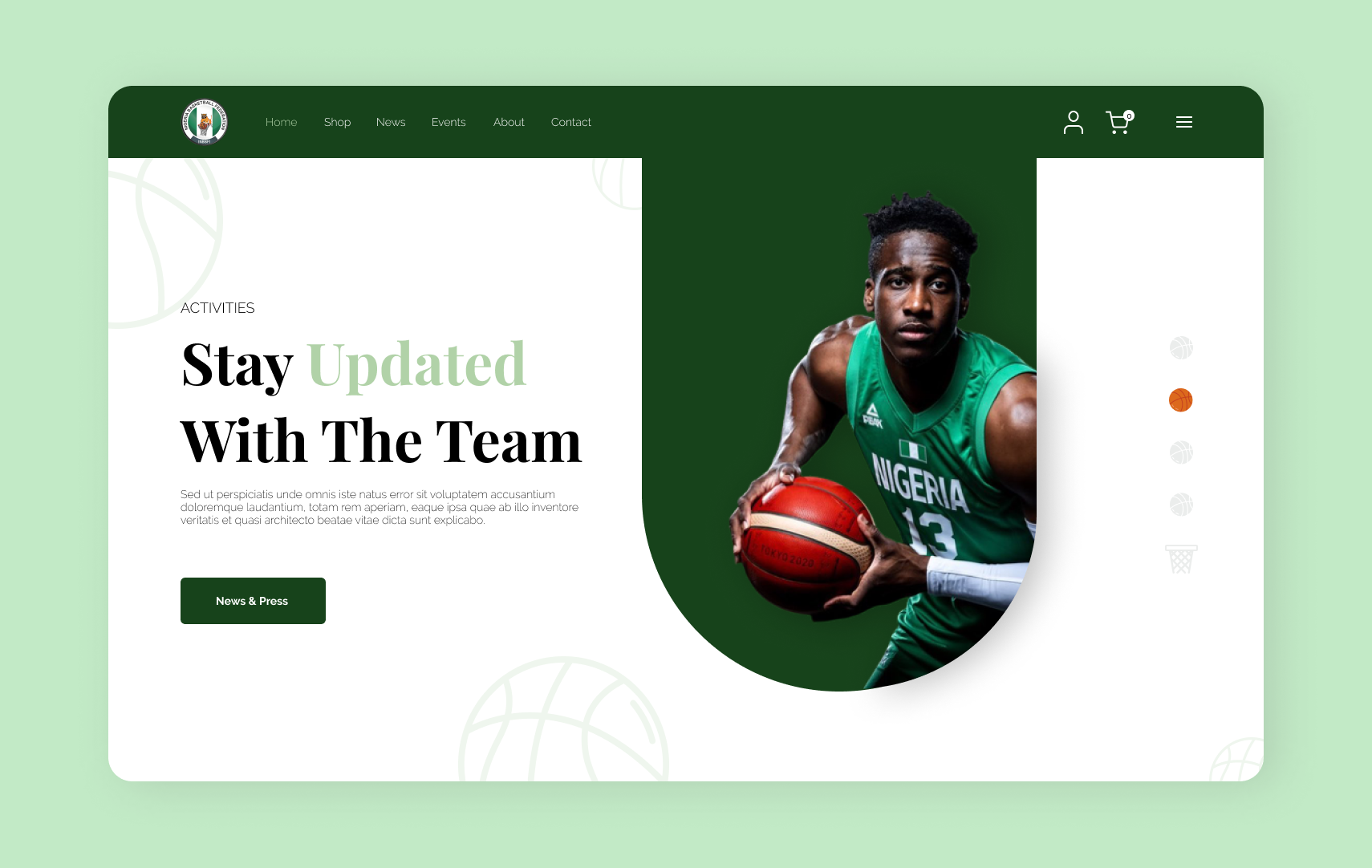 Day 12
Todo: Design a fancy dashboard for any popular business brand.
I picked Empire Domus for this task. I researched the company and listed out possible widgets on the dashboard. My initial idea was to have a sticky board by the side. I did not like how it looked so I changed the design at the last moment. Writing this now, I think having the board as a separate page will make more sense. I'll definitely work on it again.
For the final design, I opted for a dashboard where a user can see: incoming messages, projects, floor plans for review, and a to-do list. I extracted the colors from the logo (using Canva Color Palette generator).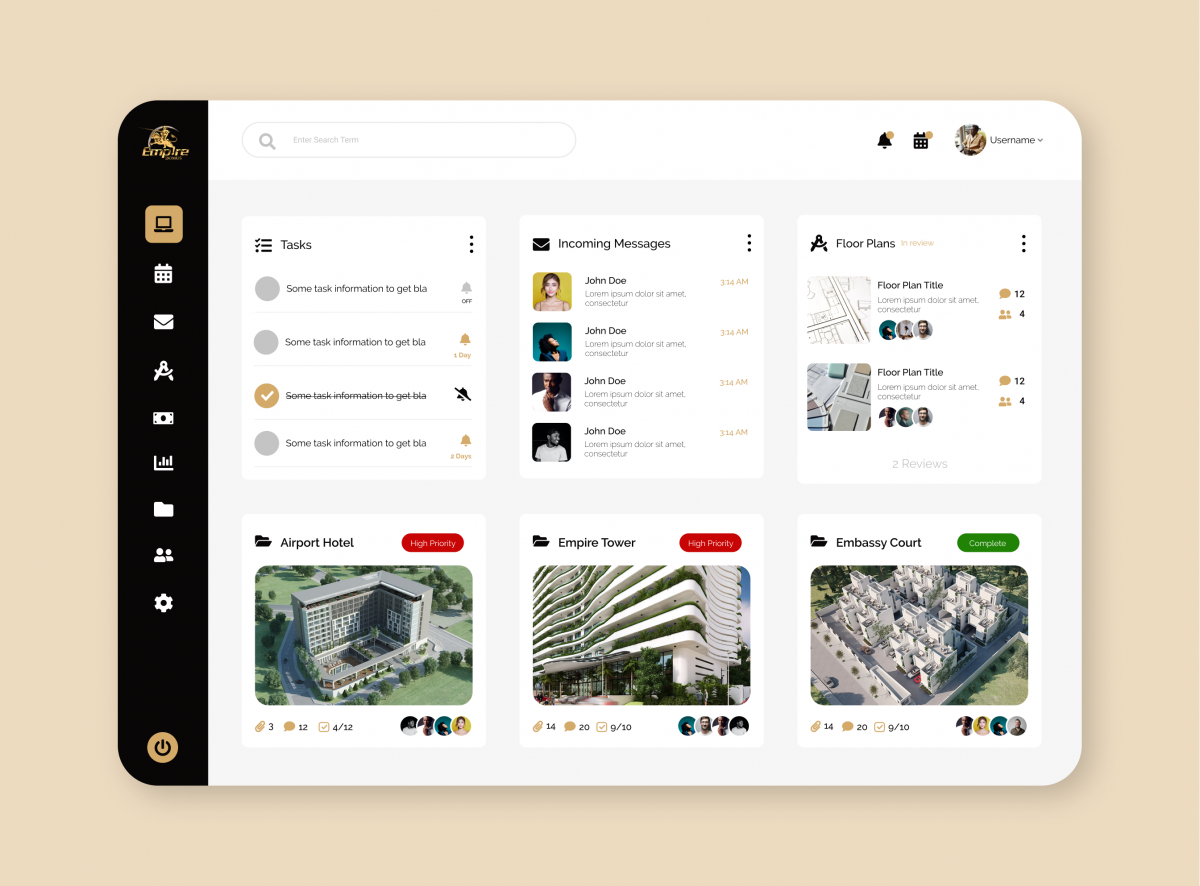 Initial design vs final design.
Note that I usually design using a gray palette then when I am done, I fill in colors and add images. Yeah and the dummy text on the to-do *facepalm*. I'll leave my mistakes here so you do not make it.
Credits: Image (Pexels, Empire Domus), Icons (Font Awesome)
Day 13
Todo: Concept idea for an online platform designed for architecture lovers.
Inspiration: Dribbble, Archilovers, Behance, Houzz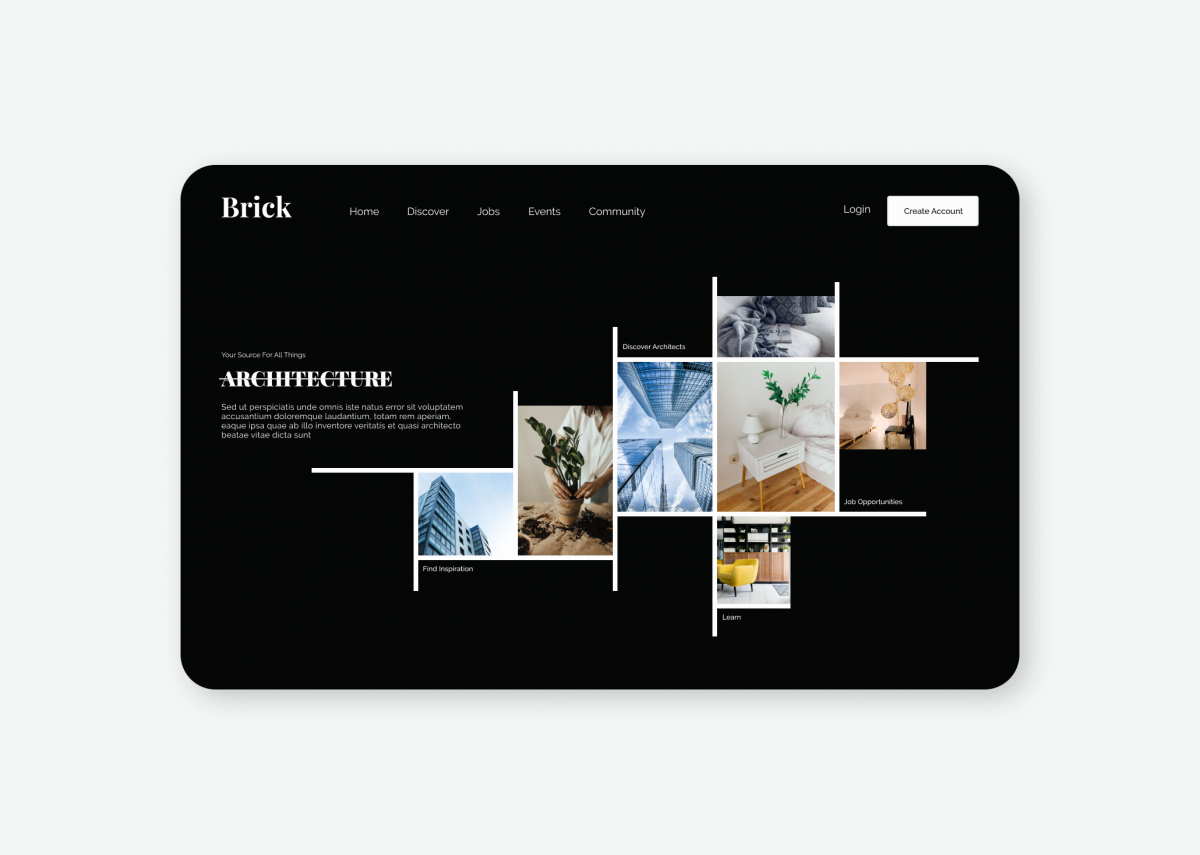 The process
Day 14
Todo: Design a mobile interface for a yellow cab company
Credit
Image: Unsplash, Pexels
Icons: Font Awesome Flaticon
Day 15
Create a simple page product design with a hoverable effect
Credit
3D Plants: Envato Elements
Icons: Feather Icons
Sound: Gelatin Nature by Ooyy
Day 16
Todo: Design a landing page for DonJazzy, a Nigerian Musician & Producer. (Be Creative)
Credit
Images: Freepik (Vinyl record), Mavinrecords.com, Bellanaija, Pexels
Icon: Font Awesome
Day 17 and 18
Todo: Create 5 T.shirt designs for ingressive capital with words founders/investors can relate to
Day 19
Task: Play around with font style
Created a quotes app with different fonts
Process
Credits
Image = Pexels, Illustration = Indian Doodle Pack by Iconscout
Day 20
Task: Design a simple Covid-19 awareness page
Process
Credits
Ghana map = Svgsilh.com, Icons = Font Awesome, Freepik via Flaticon, Illustration = Drawkit, 3D Vaccine = Envato Elements, Shop Images = Ali express
Day 21
Task: Create a simple rates page design for Innoson car company in Nigeria
Process
Credit
Images = Innosonvehicles.com, Icons = Font Awesome
Day 22
Task: Play with a smooth scrolling animation
Day 23
Task: Play with slider transition effect
Process + Prototype
Day 24
Task: Design any government mobile app
I worked on the ECG app – login, dashboard, and chat screens
Process
I wanted to have a light bulb turn on and off before the login screen appears but my current skills cannot execute the idea in my head 😀
Images = Pexels, Robot Icon = Freepik , Icons = Font Awesome
Day 25
Task: Play around with gradient color
Created cards for Day 24 Challenge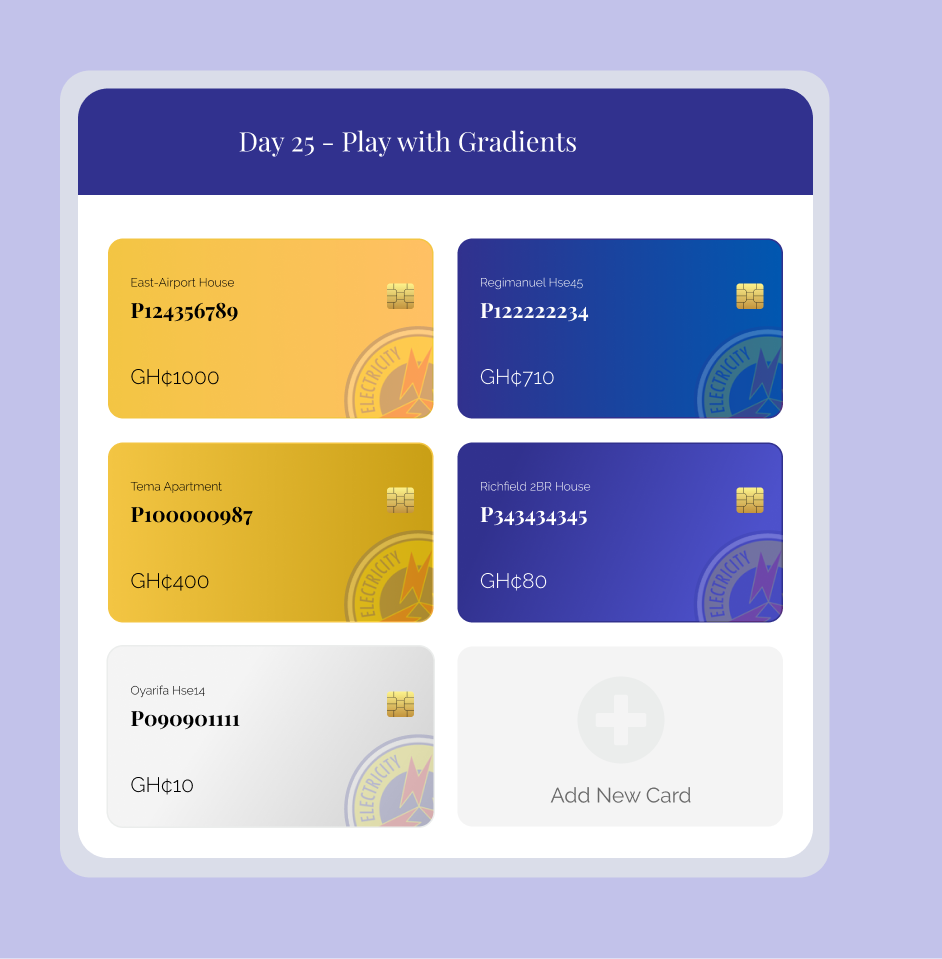 Day 26
Task: Design a simple landing page for a fashion store in your local environment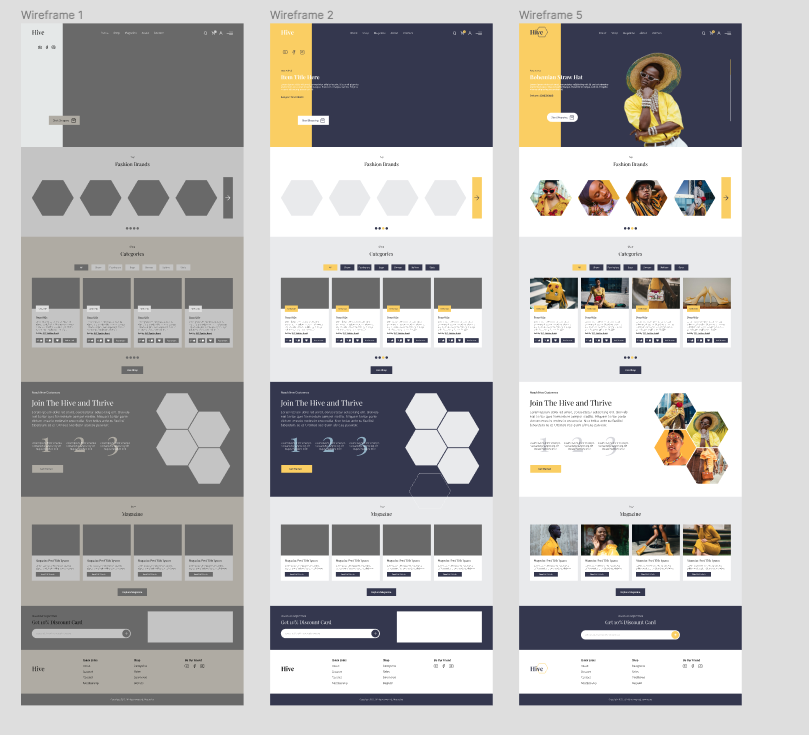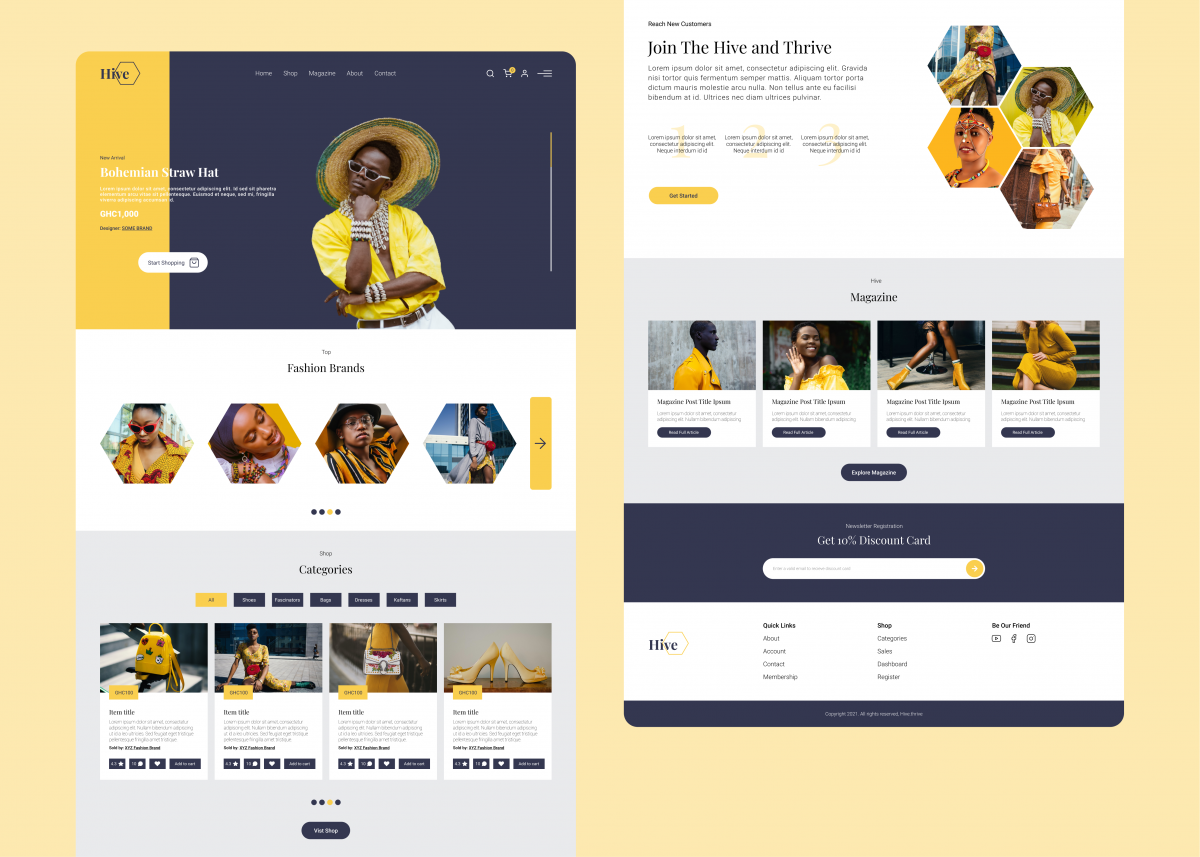 Image = Pexels, Icons = Feather Icons
Day 27
Task: Develop an idea for a hiking website presenting useful information such as…
Illustration = Sapiens, Icons = Feather icons, Images = Pexels
Day 28
Task: Design a new landing page for ingressive for good
Images = Ingressive For Good (website and Instagram), Icons = Font Awesome, Bg Pattern = SVGBackgrounds
Day 29
Task: Design a portfolio landing page for yourself
Day 30
Task: Put all your designs in a single animation preview
Illustration = Getillustrations.com (Blues), Music = Gelatin Nature by Ooy
THE END