When we worked on Boku for Hack The Normal, I really wished I had some knowledge of Figma. I can't remember the date but it was sometime around March.
It was almost midnight when I saw the call for applications for the Ingressive4good 1000 Women in Design Scholarship. It felt like a gift from God: "You said you wanted to learn Figma, here you go. Apply!"
I was nervous and part of me wanted to sleep but I decided to stay up and fill the form. I did not overthink anything – honestly. I picked the 'Product Design' track because I really wanted to have a better understanding of UI/UX design. I submitted way past 2:30 am (Gh time) and I hoped for the best. They were supposed to announce on the 30th of March but it was postponed due to the number of people who applied.
When I saw the figures (17,000), I was like – "WOW! Will I get picked?". You know the usual self-doubt.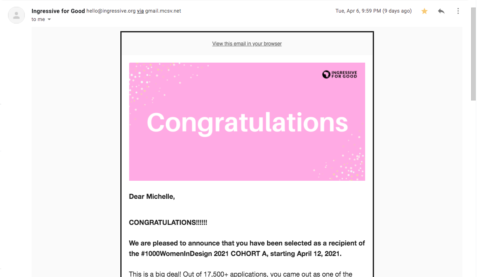 Anyways fast-forward to April 6th, I got an email – CONGRATULATIONS. I was so happy 'cause I had been refreshing my email all week. I have no words. So grateful.
This is such an amazing opportunity and I do not take it for granted. I hope to collaborate with them in the future and support women in tech.
They partnered with Geneza School of design for this program.
Thank you to everyone behind this.
Thank you